These are card that I created for Card Swappers. The Thinking of you card uses a collage picture from "White Collage" available from Altered Pages.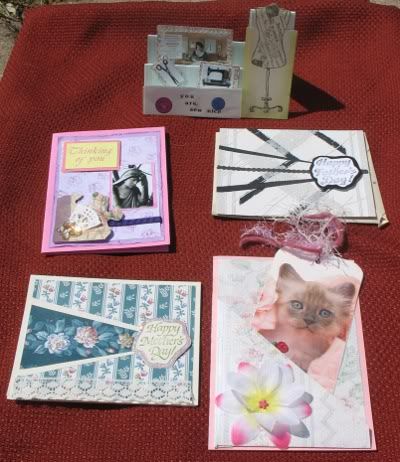 This step card was made using pictures from the collage sheet "Antique Sewing" available from Altered Pages. The stamped image of the dress form was from an old rubberstamp that I have.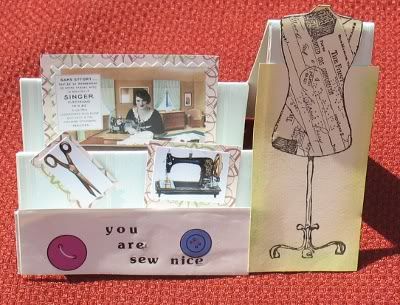 These are swap cards for the group Just Cards. The Blue Card with the pitcher is called The Delft Technique. You may find it on Splitcoast Stampers. I had difficulty with the tile effect, so I cheated. When I had the lines dry embossed, I put a strip of low tack tape along each one. That way when I stamped the image, the lines were not stamped over. The Mother's Day card uses an image from Altered Pages. I used a piece of material for the corner of Pink, Yellow and Orange card, and highlited it with stickles. The Sketch card uses paper lace and chipboard buttons and a little mesh.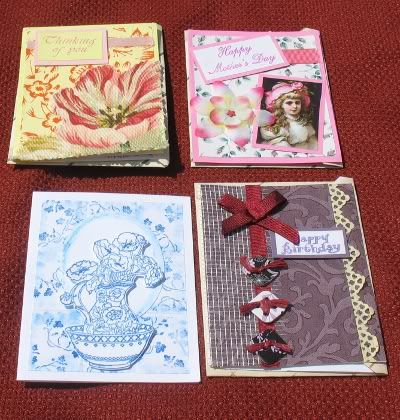 Here is the Victorian Fan that I made for a swap for Art For The Creative Mind. I used a doily and a stick from a foam sponge applicator. The Butterflies are rub ons, Liquid Pearls was used on the middle of each ruffle, gold paint was rubbed on for a little colour and then small 1/2 pearls were added along with ribbon.