Here is the Step Card Dresser that I made at a Stamping Up class yesterday. Here are the instructions.
Dresser Card Base: 5 1/2 " X 8 1/2 in
Cut from the bottom at 1ine up the centre (2 3/4") and stop at 5 1/4"
Score@1" and 2: from one edge to the center cut
Score @4 1/2" from the opposite edge to the centre cut
Fold the score line at 4 1/4"
Accordion fold the 2 score lines at 1" and 2" marks
Line up the card edges with the 41/4" fold at the top and gently fold the unscored side of the card above the accordian folds. Use your bone folder to make it crisp.
Drawers: Cut three 3/4 " by 2" pieces attache with brads.
Front Mat: Cut solid piece of card stock 3" X 2 1/2"
Inside Sentiment mat: 2 1/4" x 2 3/4"
Decorate as desired. It would look really nice done in pink or blue cardstock for a new baby.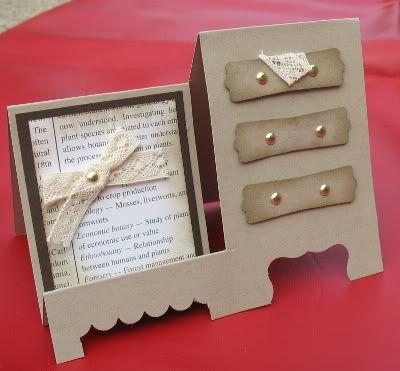 My son Wolf bought these little piggies for me at a garage sale. They are made from cement. I plan on spray painting them with a pink stonelook spraypaint. They will then look like babe.