This Altered Box was made for a swap for Art For The Creative Minds. I covered a small round cheese box with coordinating Victorian looking wallpaper. Then I added lace around the top edge and attached flowers to a piece of foam that I glued on the top. I also added three small hatpins which I made. I hope my partner likes it. There is also a little gift inside, but that is a surprise for my swap partner.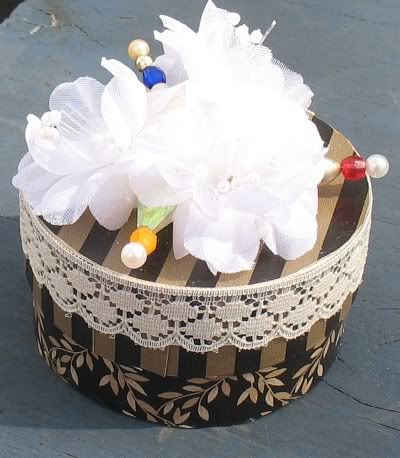 These are two ATC's created for Art For the Creative Minds using a Sewing Theme. The spool of thread was drawn freehand.. The needle is a toothpick painted silver and the thimble was cut from a piece of silver paper and then I use the end of a pin to indent it. The second ATC recycles a picture that I received on another card swap some time ago.

Boths ATC's have material as backgrounds from some discontinued fabric books that I have collected.