This card is for a swap card using lace. The background is scrapbook paper. I used a cuttlebug folder to embose the piece of silver paper and used a friskars corner punch. I cut a piece of lace about 8" long and gathered it to form a circle. I used silk flowers and a brad and attached them to the flower. The flower was attached with 2 sided tape. I used a strip of two sided tape. I place one end of the lace down and then folded the piece over a pencil and then stuck it down. I kept doing this until I reached the end of the card. It gives a very nice ruffled effect.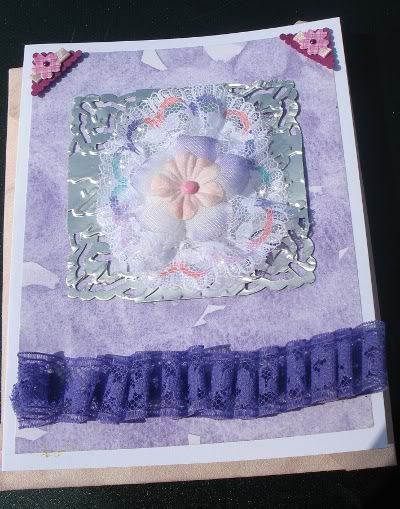 This card is for the Blue/Green/Pink swap. I used the same technique for the Lace as I did on .


I used the same lace technique for this card as for the one above.